Environmental burden caused by normal ink (solvent ink)
The solvent ink is drying due to the volatility of the solvent, VOC (volatile organic compounds).

VOC emits strong odor and contains high environmental load substance such as cyclohexanone.
---
Eco-friendly ink reduces the operator's health load and is better for the environment
The UV-curable ink is cured and adhered to the media by UV radiation.

This ink emits very low levels of VOC and the LED (light-emitting diode) light does not radiate short wavelengths that generate ozone.

Use of Mimaki UV-curable ink demonstrates consciousness about the environment and the health of users.
---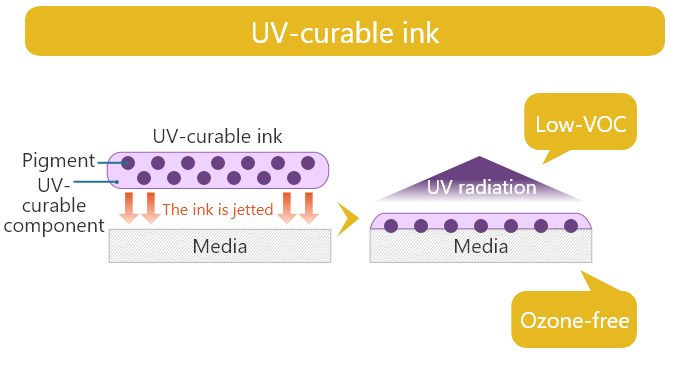 ---
Acquired global environmental certification "GREENGUARD Gold"
---
Some Mimaki genuine ink products have gained the internationally recognized environmental certification, "GREENGUARD Gold."
---
What is "GREENGUARD" certification?

●"GREENGUARD" is a program of the environmental certification on chemical emissions of indoor spaces by UL LLC, third-party institution of safety science of the United States.
●Based on the backed information by the unbiased empirical science data, the products with less chemical emission to the room spaces and more environmentally friendly can be approved to this certification.
●Products that have achieved "GREENGUARD" certification are scientifically proven to meet some of the world's most rigorous third-party chemical emissions standards, helping to reduce indoor air pollution and the risk of chemical exposure, while aiding in the creation of healthier indoor environments.
---
"GREENGUARD Gold" Certified Ink
●Solvent ink:SS21, BS4
●Latex ink:LX101
●UV curable ink:LH-100, LU-125, LUS-120, LUS-150, LUS-170, LUS-175, LUS-200
---
---