Aiming to Be a Company Rooted in the Local Community
Since 2007, our company has opened our factory and showroom to hold the "Mimaki Festival", with the purpose of introducing what our company is about, to express our daily gratitude, and to hold friendly exchanges with local residents.

This year (2017) was held on October 21st (Sat), with the theme of "Innovators providing 'something new, something different'". Visitors of our Shigeno showroom were treated to music and dancing on stage, in addition to activities such as the demonstration of a large inkjet printer, display of 3D print objects, print services for visitors, the large-scale Diorama Plastic Rail World, charity drawing , booths of neighboring companies, and the event reporting meeting of Artista Tomi (local football team).
There were worries about the approaching typhoon, but we were blessed with good weather, and we were able to carry out all the events that were planned. We would like to express gratitude to the approximately 2,700 visitors and the cooperating companies that helped with advanced preparations and with the management on the day of the event. Thanks to you, we were able to hold such a grand festival.

In addition, we would like to report that thanks to everyone's support, we donated \222,200 to the Japanese Red Cross Society. The proceeds are a result of all of the sales from the charity drawing, and a part of the sales from the food and drink booths.

From here on forward, it is our hope that we can continue to improve to hold these regional events for the local people to enjoy.
---
---
Opening ceremony
---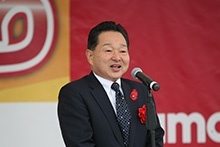 ---
---
Tour of the showroom and plant
---
---
---
Stage events
---
---
---
Outdoor events
---
---
---
Indoor events
---
---
---
Other events
---
---
---